Fall To-Do List
- Hallo sahabat
FASHION TOPICS
, Pada Artikel yang anda baca kali ini dengan judul Fall To-Do List, kami telah mempersiapkan artikel ini dengan baik untuk anda baca dan ambil informasi didalamnya. mudah-mudahan isi postingan
Artikel Cleveland
,
Artikel fall to-do list
,
Artikel pattersons
, yang kami tulis ini dapat anda pahami. baiklah, selamat membaca.
Judul :
Fall To-Do List
link :
Fall To-Do List
Fall To-Do List
Here are the things I'm craving to do this fall like I'm craving a apple-cider donut (aka real bad):
Patterson's homemade donuts in flavors no one else has
1. Annual Trip(s) to Patterson Fruit Farm for apple picking, pumpkin picking, and the BEST baked good ever. I always load up on apple fritters, donuts, and of course apple dumplings, as I lovingly refer to them as "dumps" (charming, I know). Up until a couple years ago (when my adult body said "hey girlfriend, you keep eating like a garbage disposal, and I'll prove it to the world), I would get 14 dumps, a dozen donuts, and 4 fritters. I would have a dump every single night sitting in front of the TV watching my guilty pleasure The Tudors. And after 14 straight nights of this, I would not be sick of them, but would get upset after eating the last one. Then I would secretly plan to go back for more. It's a serious problem, my obsession with my dumps lol. And don't ask me to share!
Yes, this is a real photo from fall at the Arboretum in beautiful Kirtland, Ohio!
2. Hiking in the Holden Arboretum. My favorite place on earth is stunning and magical everyday of the year, but nature in Autumn is so much more beautiful and inspiring.
3. Having a 'friends-giving' with our group. Our gracious friend Giavonna always hosts the most detailed dinner gatherings since entertaining is her jam. After years of talking at all our other dinner parties, we plan to do a full-out thanksgiving with our group of friends this year. It's always a ton of food, and me and the other girls feeling like we better step it up in the homemaking department!
4. Soak up all the glorious-ness that is All Hallows Eve. Let me clarify-I am not a commercial Halloween person, that being the skanky, unoriginal costumes and parties, and most definitely not into the fake horror houses kind of stuff. I love the time surrounding Halloween that is the dark, damp leaves blowing in the night, the eerie silence of a historical cemetery, etc. I love the Gothic, moodiness of this particular holiday. Also, if you haven't already, you GOT to go do a tour for the Willoughby Ghost Walk. I dragged Anthony there last year and it was AMAZING. We even witnessed real paranormal activity and I don't care that Anthony says it was staged, I believe lol. Also: HOCUS POCUS. THE ADDAMS FAMILY. HALLOWEEN TOWN. Enough said.

I AM CALM!
I mean, who else do you expect me to be?
5. Stuff myself silly at my favorite holiday meal: Thanksgiving. And maybe even be an adult and contribute something to the table this year. This day always goes by so fast it seems, but I love it because it truly is the start of the holiday season for me. And it is also the only day I can tolerate hearing fooseball on in the background.
Chagrin Fall, Ohio
6. Drives through the country for a date in Chagrin Falls. Me and Anth love frequenting this charming, old little town for their boutiques and picture opps. We usually do date nights throughout the spring and summer and love eating outside to people watch. In fall, we bundle up, hit up the Starbucks and visit the cute old bookstore. It also is super magical in winter with the town strung up in little white lights, falling snow and horse and carriage rides.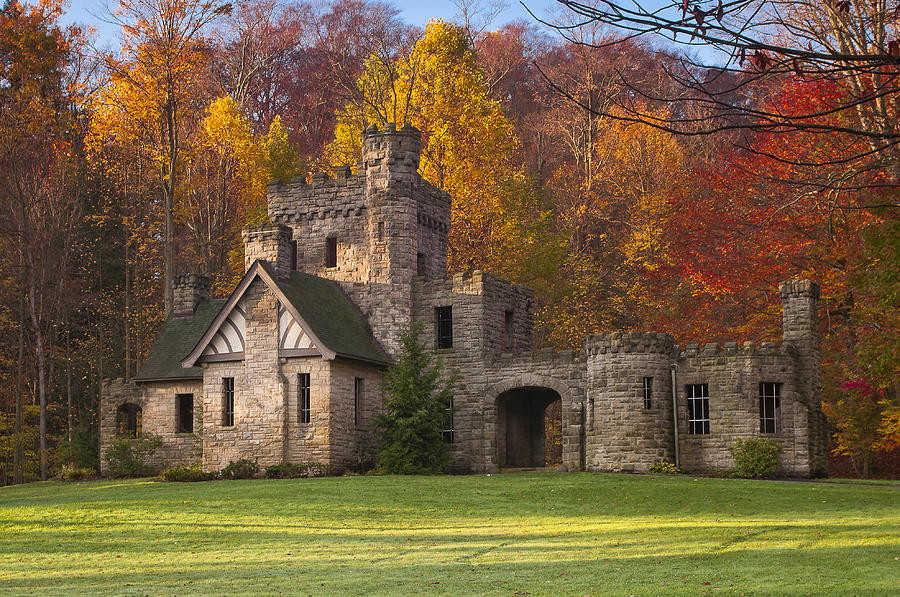 7. Go to Squires Castle for a walk. Since I am a huge history buff, naturally the half-structured historic Squires Castle in the Cleveland Metro parks is one of my must-visits in fall. Something about the place just inspires me. When we went there last fall, we could barely walk through it as there was tons of engagement pics, senior pics, and kiddie pics going on. I just feel like I step back in time when I walk through the castle's empty rooms, that rumor has it comes with a sad backstory. It is also said to be haunted, so I love it even more for that.
8. Getting in that last cone at Foster' Homemade Ice cream! Hands-down the best ice cream ever Fosters is known for their creamy hard ice cream with flavors no one else has. They have to go and break my heart though every October when they close for the season until April 1.
My

signature, chocolate peanut butter as a double please
What are you most looking forward to doing this fall? I'd love to hear your favorite fall activity or tradition!
xo
Demikianlah Artikel Fall To-Do List
Sekianlah artikel Fall To-Do List kali ini, mudah-mudahan bisa memberi manfaat untuk anda semua. baiklah, sampai jumpa di postingan artikel lainnya.

Anda sekarang membaca artikel Fall To-Do List dengan alamat link http://fashion-topics.blogspot.com/2015/10/fall-to-do-list.html